Jodi Huisentruit
Talk

0
1,638pages on
this wiki
Real Name:
Jodi Sue Huisentruit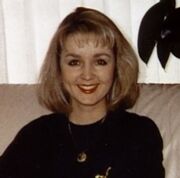 Nicknames: No Known Nicknames
Location: Mason City, Iowa
Date: June 27, 1995
Occupation: TV Anchorwoman
Date of Birth: June 5, 1968
Height: 5' 4"
Weight: 115 lbs.
Marital Status: Single
Characteristics: Blonde hair, brown eyes

Details: Jodi Huisentruit was a beautiful, well-liked Mason City, Iowa anchorwoman who vanished on June 27, 1995. On the morning she disappeared, she was supposed to be at work around four in the morning to anchor the morning news. She overslept and was awoken when the news director called her at home. Later in the morning when she still hadn't arrived at the station, the news director drove to Jodi's apartment and discovered some of Jodi's possessions scattered around her red Mazda Miata. It appeared that a struggle had taken place at Jodi's car, and she was probably abducted. Hundreds of volunteers, the local police and the FBI searched for her, but no trace of Jodi was ever found. Jodi had no known enemies and there was no other reason to suspect that Jodi had been in any danger. Her case remains unsolved.
Suspects: Police have considered the theory that she might have been stalked by an obsessed fan and was later abducted and murdered by this individual. However, no suspects have ever been identified. A white ford van was seen around her apartment complex at the time she vanished, but it is unknown if the van is related to her disappearance.
Extra Notes: This case originally ran on the February 28, 1996 episode.
Results: Unsolved. In May of 2001 Jodi was declared dead, but her body has never been recovered and her supposed killer has never been caught.
Links:
---