Real Names: Joan, Michelle, and Christe Rogers
Nicknames: Jo (Joan), Chris (Christe)
Location: Tampa, Florida
Date: June 1, 1989
Details: On May 26, 1989, Joan Rogers took her daughters, Michelle, 17, and Christe, 14, with her on vacation to Tampa, Florida. Along the way, they visited the Jacksonville Zoo, Kennedy Space Center, and Disney World. They arrived at their hotel in Tampa at around noon on June 1. When they did not return to their home in Ohio that weekend, Hal became concerned and reported them missing.
On the same day that they were supposed to return home, their bodies were found in Tampa Bay. Each had been bound with tape, weighed down with a cinder block, and dumped into the bay, still alive. They also had been sexually assaulted prior to death.
Authorities believe that the victims had met their killer shortly after arriving in Tampa. On June 8, Joan's car was found near a boat ramp. A note in the vehicle contained directions to the boat ramp, along with "B/W". It is believed that they were meeting someone with a blue and white boat.
It is believed that the Rogers were lured to their deaths with the promise of an innocent boat ride. An accomplice may have also been involved. As of yet, the killer(s) remain unidentified.
Suspects: It is believed that the killer wrote the note that was found in Joan's car. He may have a blue and white boat. A guest at the hotel reported seeing an unidentified, well-groomed white male loading a cooler into a white boat with blue stripes. The boat was towed by a dark-colored Chevy Blazer or Ford Bronco.
Authorities believe that the killer is a psychopath who has probably killed before and may kill again.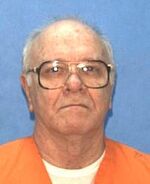 Extra Notes: This case first aired as part of a Special Edition of "The Diabolical Mind" on the November 3, 1991 episode. It was also profiled on Forensic Files, The New Detectives, Cold Case Files, A Current Affair, and On the Case with Paula Zahn.
Results: Solved. After several years of investigation, authorities decided to use a new technique to identify the killer. They used billboards to show the handwriting on the note left in Joan's car. A woman identified the handwriting as belonging to her neighbor, a fisherman named Oba Chandler. Authorities soon connected Chandler to the rape of a Canadian tourist, who was attacked on a boat. The victim identified Chandler as her rapist. The crime was eerily similar to the Rogers murders.
A palm print found on the note was later matched to Chandler and he was arrested and charged with the murders. He was convicted of the murders and sentenced to death. He was executed on November 15, 2011. Since then, DNA testing has connected him to another, unrelated murder that occurred in 1990, confirming that he was a serial killer.
Links:
---