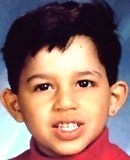 Real Name: Jesus De La Cruz
Nicknames: No Known Nicknames
Location: September 28, 1996
Date: Lynn, Massachusetts
Occupation: Minor
Date of Birth: January 3, 1990
Height: 4' 6"
Weight: 60 lbs.
Marital Status: Single
Characteristics: Brown hair and eyes, scar above left eye, birthmarks on left calf and left forehead, pierced left ear
Details:
Jesus De La Cruz was pushing his bicycle home on Park Avenue with a friend when a stranger with a collie apprached him and offered him a new bicycle. They walked off together leaving the friend behind, never to be seen again. The authorities and Jesus's family are very much trying to find him.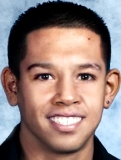 Suspects: The stranger who had approached Jesus was eventually identified as Robert Levesque from the neighborhood. He was arrested on an unrelated stolen vehicle charge, but denied having abducted Jesus. The boy who had been with Jesus also failed to picke Levesque out of a line-up.
Extra Notes: This case originally ran on the November 8, 1996 episode.
Results: Unsolved
Links:

---
Ad blocker interference detected!
Wikia is a free-to-use site that makes money from advertising. We have a modified experience for viewers using ad blockers

Wikia is not accessible if you've made further modifications. Remove the custom ad blocker rule(s) and the page will load as expected.