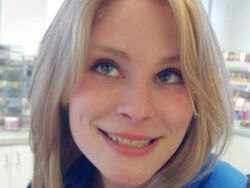 Real Name: Jessica Lynn Heeringa
Nicknames: No known nicknames
Location: Norton Shores, Michigan
Date: April 26, 2013
Occupation: Gas Station Clerk
Date of Birth: July 16, 1987
Height: 5'1"
Weight: 105 pounds
Marital Status: Single
Characteristics: Caucasian female. Blonde hair, blue eyes.
Details: Jessica Heeringa, a 25-year-old single mother, was abducted from the Exxon Mobile station in Norton Shores, Michigan, on April 26, 2013. Her last known sale was at 10:54pm, and a customer discovered the store abandoned at 11:07pm. The police were called, and her cigarettes and lighter were found next to the cash register. No money or any of her belongings were taken from the store, suggesting to police that she was taken by someone she knew. A small amount of blood was found outside the back door. It was later determined to be hers. A witness reported seeing a suspicious man and vehicle around the station shortly before she vanished. He was reportedly flirting with her. He has never been identified and the case remains unsolved.


Suspects: The possible suspect is described as a caucasian male in his thirties, approximately 6'0", with a medium to heavy build and brown or sandy blond hair. He was seen driving a silver minivan, possibly a 2005 Chrysler Town and Country. It was seen on a surveillance video about a mile away from the station at around 11:04pm.
Extra Notes: This case was uploaded to the Unsolved Mysteries website on April 24, 2015. The person interviewed in the video is Jessica's mother, Shelly. This story also appeared on Disappeared.
Results: Unresolved. In April 2016, Jeffrey Willis was arrested for attempting to abducting a 16-year-old girl. In May 2016, he was also charged with the 2014 murder of Rebekah Bletsch after ballistics evidence connected him to the crime. Authorities at the time identified him as a person of interest in Jessica's disappearance since he owned a silver minivan similar to the one that was believed to have been used in Jessica's abduction. Willis had apparently frequented the gas station that Jessica vanished from. Finally, in September 2016, Willis was charged with the kidnapping and murder of Jessica Heeringa. However, her body has never been found.
Links:
---