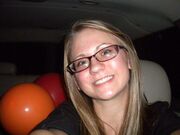 Real Name: Jessica Chambers
Nicknames: No known nicknames
Location: Courtland, Mississippi
Date: December 6, 2014

Details: At around 8PM on December 6, 2014, 19-year-old Jessica Chambers was found burning next to her car which was also on fire. She suffered burns on all of her body. A flammable liquid had been poured on her body, down her throat, and up her nose. Early the next morning, she passed away as a result of her injuries. Authorities determined that she was last seen alive at a gas station about a mile and a half from where her body was found. Authorities have yet to identify any suspects and the case remains unsolved.
Suspects: None known
Extra Notes: This case was uploaded to the Unsolved Mysteries website on February 21, 2015. The person interviewed in the video is Jessica's sister, Amanda.
Results: Unresolved. Quentin Tellis has been indicted on a capital murder charge in Jessica's death.
Links: 

---
Ad blocker interference detected!
Wikia is a free-to-use site that makes money from advertising. We have a modified experience for viewers using ad blockers

Wikia is not accessible if you've made further modifications. Remove the custom ad blocker rule(s) and the page will load as expected.