Real Name: Jerry Strickland
Aliases: None known
Wanted For: Murder, Robbery
Missing Since: May 11, 1987
Details: In 1985, high school student Missy Mundy of Hancock, Maryland, met a man named Jerry Strickland, who claimed that he was looking for property to build a new home next door to the Mundy home. Although her mother disliked him, Missy became intrigued and soon began sneaking out to see him. He told her that his wife and child had died in a car accident. He soon began buying her gifts and she fell in love with him.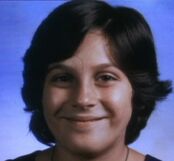 On April 17, 1986, she left home to go to school, but instead of going there, she was picked up by him and vanished. She had no idea that everything that he had told her was a lie. His wife and child were still alive, and he had a serious prison record; he had raped and nearly stabbed his sister-in-law to death. They soon settled in Springfield, Michigan, and had a child together. She still kept in contact with some of her friends in Maryland, but did not tell her family where she was. She soon got a job as an assistant manager at a nearby gas station. She became friends with gas station courier Elmer DeBoer.
On the morning of May 11, 1987, he came to pick up the money from the store, and was never seen alive again. An hour later, the station was discovered abandoned and the front door locked. Inside, the safe was found to be opened and over $10,000 was missing. Authorities believe that Missy and Jerry robbed Elmer when he entered the store and opened the safe. They believe Strickland handcuffed Missy and Elmer together, to make Elmer believe that Missy was also a victim. They then took him to a wooded area a few miles away and shot him to death. The morning after the murder, Jerry and Missy were seen in Pontiac, Michigan, where they bought a truck. For two hours, she sat with an auto salesman alone but did not tell him about the murder. Her family and friends are shocked that she could be involved in such a crime. Jerry is wanted for armed robbery, kidnapping, and murder, while Missy is currently wanted for questioning in the case.
Extra Notes: This case first aired as a part of Special #5 in February 5, 1988.
Results: Captured. Missy and Jerry were located in Moses Lake, Washington, and were arrested the next morning after the broadcast. They had two children together. She turned state's evidence on him and in return, the murder and kidnapping charges were dropped. She served seven months in a juvenile home for armed robbery and was released when she turned 19. She testified against him at the gas station murder trial. He was convicted of Elmer's murder, kidnapping, and armed robbery. He is serving two life sentences without parole.
Links:
---