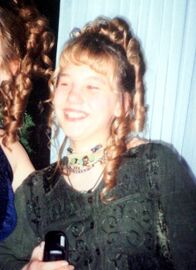 Real Name: Jennifer Barziloski
Nicknames: No known nicknames
Location: Edwardsville, Pennsylvania
Date: June 23, 2001

Details: Jennifer Barziloski, 18, vanished shortly after leaving her home in Edwardsville, Pennsylvania, on June 23, 2001. She was last seen with her sister's boyfriend, Steven Martin. Shortly after she vanished, her friend, Phylicia Thomas, told her mother that she believed she knew what happened to her and that she knew who was responsible. Then, in 2004, Phylicia herself vanished without a trace. Then, in April 2010, Jennifer's skull was located in Hunlock Township. No other remains were uncovered. The cause of death is undetermined but her family believes she met with foul play. Her and Phylicia's cases remain unsolved.
Suspects: A person of interest in both Phylicia and Jennifer's cases is Steven Martin. He himself claims to be the last person to speak with Phylicia, calling her at her home shortly after 11:30pm. He was also the last person to see Jennifer, his girlfriend's sister, before she vanished. He committed sucide while in jail on unrelated charges in 2005. He was never charged in connection with either case.
Extra Notes: This case was uploaded to the Unsolved Mysteries website on June 5, 2015. The people interviewed in the video are Phylicia's mother and a family friend.
Results: Unsolved
Links:
---
Ad blocker interference detected!
Wikia is a free-to-use site that makes money from advertising. We have a modified experience for viewers using ad blockers

Wikia is not accessible if you've made further modifications. Remove the custom ad blocker rule(s) and the page will load as expected.