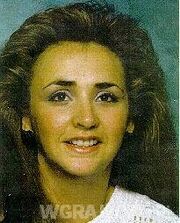 Real Name: Jeanette Theresa Federico
Nicknames: Jean Malta, Jeanette Phillips
Location: Los Angeles, California
Date: February 28, 1997
Occupation: Unrevealed
Date of Birth: 8/7/68
Height: 5'3"
Weight: 130 pounds
Marital Status: Widowed
Characteristics: Unrevealed
Details:
Jeanette Federico is the wife of Larry Philips, who is a serial bank robber. He and Emil Matasareanu robbed two banks in May of 1996 in California, wielding machine guns and exhibiting military tactics. They are believed to have robbed an armored car in June 1995 where a guard was killed. The two men robbed a Bank of America in Van Nuys, CA on February 28, 1997.
Both men held the police off during the robbery and subsequent hostage situation for half an hour before Emil was shot and killed by police and Larry Philips committed suicide. Jeanette was reported as being in Los Angeles that day, but she could not be found when the police went looking for her. They want to know how many robberies the men committed, if she was involved, and where the missing money is.
Suspects: Foul play is not suspected in her disappearance.
Extra Notes: This case originally ran on the April 11, 1997 episode.
Results: Solved. Jeanette turned herself in to authorities in Colorado as a result of the broadcast. She was charged with child stealing that had occurred in Santa Fe. She later led authorities to the location of her husband's stolen money.
Links:
---
Ad blocker interference detected!
Wikia is a free-to-use site that makes money from advertising. We have a modified experience for viewers using ad blockers

Wikia is not accessible if you've made further modifications. Remove the custom ad blocker rule(s) and the page will load as expected.