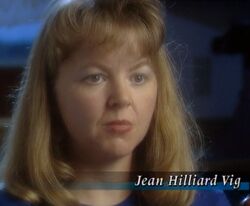 Real Name: Jean Hilliard
Case: Medical Mystery
Date: December 20, 1980
Location: Lengby, Minnesota

Details: On the night of December 20, 1980, nineteen-year-old Jean Hilliard was driving to her parent's home in Lengby, Minnesota, along a country road. While on the way, her car slid off the road and became stuck in a ditch. Instead of waiting for help, she decided to walk a few miles to her friend's house in the below twenty-five degree weather. She was hardly dressed for the cold weather, with just a jacket, pants, and cowboy boots. As she continued to walk, the heat was leaving her body. After an hour, she made it to her friend's house. However, before she could reach the door, she collapsed due to the cold.
The following morning, Jean was discovered frozen solid and near death in her friend's front yard. Due to her condition, none of her limbs would bend and she was unconscious. The frostbite was severe over her entire body. The core temperature of her body was dangerously low. She was rushed to the hospital where everything was done to save her life, but the outlook appeared grim. If she survived at all, it was likely she'd come out of it with possible brain damage or a double leg amputation.
A hospital worker contacted her pastor and told her about Jean's condition. A prayer chain began throughout the area; by the end of the day, more than thirty people were praying for her. Just two hours after the chain began, Jean went into violent spasms. This was a good sign that her life was returning to her. However, doctors were still not optimistic.
The next day, despite the seriousness of her frostbite, she awoke. Everything seemed to be fine with her mind and body. It was soon clear that nothing would have to be amputated from her and that she would recover. After forty-nine days in the hospital and in defiance of everything known about frostbite, Jean was released. Since then, she has made an astonishing recovery and has suffered no later ill effects.
Jean is now married and a mother with three children. She believes that along with the doctors and nurses, the prayer chain helped to save her life.
Extra Notes: This segment first ran on Unsolved Mysteries in the February 9, 1996 episode.
Results: Unsolved
Links:
---
Ad blocker interference detected!
Wikia is a free-to-use site that makes money from advertising. We have a modified experience for viewers using ad blockers

Wikia is not accessible if you've made further modifications. Remove the custom ad blocker rule(s) and the page will load as expected.