Real Name: Geneva Odelia Ellroy
Nicknames: Jean Ellroy
Location: Los Angeles, California
Date: June 22, 1958
Details: Author James Ellroy was just ten years old when his mother, Geneva "Jean" Ellroy, was raped, strangled, and murdered by an unknown man. After her death, James's life turned for the worse, especially after his father's death. He later became being interested in crime novels, and soon began writing them. In 1994, James became investigating his mother's 36 year old murder and looked through the evidence from his mother's case. James was able to locate a waitress named Lavonne Chambers who served Jean and an unidentified man on the night of her death at a drive-in. James also learned that later in the night, Jean and the unknown man were also seen with an unidentified blonde woman at a bar called the Desert Inn, whom he believes is the key to solving her murder and identifying the man. Jean and the man later arrived at the same drive-in that they were at earlier without the blonde woman, and left at around 3:00am. Police suspect that the man then took Jean to the place where she was killed, attacked her, raped her, and then murdered her. Police believe that the man seen with Jean the night of her death is her killer. Her murder has yet to be solved.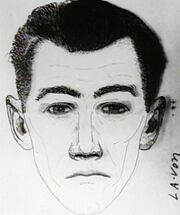 Suspects: Police have nicknamed the man seen that night with Jean, "The Swarthy Man", who had dark hair and an olive complexion. Police would like to question the unidentified blondewoman seen with them the night of Jean's death, along with some of Jean's former co-workers who may have information about Jean's killer.
Extra Notes: This segment originally aired on the March 22, 1996 episode of Unsolved Mysteries. James created the book, "My Dark Places" which is based on the murder of his mother. Among his other works are bestsellers "The Black Dahlia", "L.A. Confidential" and "American Tabloid."
Results: Unsolved
Links:
---
Ad blocker interference detected!
Wikia is a free-to-use site that makes money from advertising. We have a modified experience for viewers using ad blockers

Wikia is not accessible if you've made further modifications. Remove the custom ad blocker rule(s) and the page will load as expected.