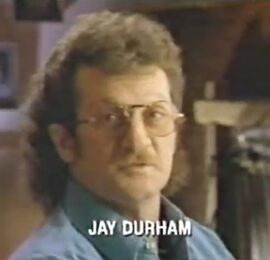 Real Name: Jay Durham
Case: Attempted Murder
Date: April 16, 1992
Location: Russellville, Arkansas
Details: On April 16, 1992, Jay Durham was riding his motorcycle on the highway near Little Rock, Arkansas, to pick up his son. Near an exit to Russellville, a semi smashed into him and sped up in attempt to smash him into the back of another truck. He survived by freeing himself and rolling off the highway, watching from the shadows as the man who tried to kill him stopped and attempted to take his bike out from under his truck. Another truck driver pulled up to help, and they both tossed away his wrecked bike. They started searching for him but to no avail, and shook hands before leaving the scene. He was found by a group of teenagers who called an ambulance. He lost a leg due to the accident, in addition to several other serious injuries. He began searching for the man who nearly killed him, but has found very little information. Authorities would like to speak to the trucker who helped Jay's assailant dislodge the bike. Police believe that the other driver is innocent, but he has never came forward.
Suspects: Police believe that the truck driver would have suffered serious damage to the front of his vehicle from the incident, and that the repairs most likely occured on April 17 or 18, 1992.
Extra Notes: The case first aired on the December 16, 1994 episode.
Results: Unsolved. Sadly, Jay passed away in February 2014. He was 66 years old. The identity of his attackers have never been revealed.
Links:
---
Ad blocker interference detected!
Wikia is a free-to-use site that makes money from advertising. We have a modified experience for viewers using ad blockers

Wikia is not accessible if you've made further modifications. Remove the custom ad blocker rule(s) and the page will load as expected.