Real Names: Jay Cook and Tanya Van Cuylenborg
Nicknames: No known nicknames
Location: Seattle, Washington
Date: November 18, 1987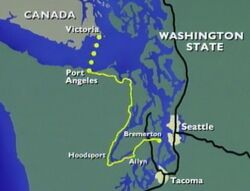 Details: Twenty-year-old Jay Cook and seventeen-year-old Tanya Van Cuylenborg were residents of Victoria, Canada who traveled to Seattle, Washington on a buying trip for Jay's father. On November 18, 1987, they left Victoria and took the 4 pm car ferry to Port Angeles, Washington. The couple drove Jay's father's van down Highway 101 into Hoodsport, arriving there at 8 pm; then, they drove through Allyn, presumably on their way to Bremerton. It is believed that they then boarded another car ferry that went to downtown Seattle; however, they were never seen alive again.
Jay and Tanya were expected home the next day, but when they did not call or arrive home that evening, their parents became concerned. On November 20, the couple was reported missing. Tragically, on November 24, Tanya was found raped and shot to death in Skagit County, Washington; her body was bound with plastic wire ties. At first, police suspected that Jay may have killed his girlfriend; however, neither family could believe this.
The next day, the van was found ninety miles away in Bellingham; a Bremerton-Seattle ferry ticket was found inside. The van's keys and more plastic ties, along with plastic gloves, Tanya's driver's license, and a half box of ammunition were discovered underneath a tavern two blocks away. On November 26, Jay was found beaten and strangled to death, his hands also bound with plastic ties. His body was found underneath a bridge near Monroe.
After the murders and over the Christmas holidays, their families were taunted by disturbing greeting cards believed to be from the killers. The cards had taunting descriptions of the murders, and the author claimed responsibility for the crimes. Nearly twenty greeting cards have been mailed over several different holidays. Postmarked from New York, Los Angeles, and Seattle, they shared the same handwriting. However, DNA found on the letters did not match the DNA found on the victims. Police, however, believe the letter writer may have been involved in the murders.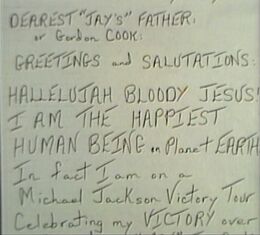 Suspects: The police believe Jay and Tanya could have met their killer on the ferry from Victoria to Washington or on the 10:20 pm Bremerton ferry to Seattle, although it is more likely that they met him on the latter one. Police believe that the killer asked the couple for a ride, then tried to sexually assault Tanya. It is believed that Jay was killed for being "in the way" and Tanya was killed to cover up the sexual assault.
Based on evidence found with Jay's body, investigators believe that the assailant may have done time in prison; his efforts to conceal his identity are indicative of someone familiar with police procedures. Investigators believe that he did make one mistake, however. It is suspected that he took Jay's waist-length black ski jacket with red piping on the sleeves. He may have also taken Tanya's olive-drab day pack. It is possible that someone noticed him with these incriminating items.
Police also believed at the time that the person who had written the greeting cards may have had something to do with the murders.
Extra Notes: This case originally ran on the October 25, 1989 episode.
Results: Unresolved. Several possible suspects have been questioned in the case over the years, including serial killer Robert Yates. However, DNA evidence has cleared them all of any involvement.
In August 2010, Victoria cold-case detectives finally identified the person responsible for sending the disturbing greeting cards. He is a man now in his 70s with severe mental issues. He readily admitted that he was the author of the cards. Police interviewed him for several hours and now believe he had nothing to do with Jay and Tanya's murders; he probably read about the story in a newspaper and sent the cards from there.
Sadly, Jay and Tanya's killer has never been caught; a reward is being offered in the case.
Links:
---
Ad blocker interference detected!
Wikia is a free-to-use site that makes money from advertising. We have a modified experience for viewers using ad blockers

Wikia is not accessible if you've made further modifications. Remove the custom ad blocker rule(s) and the page will load as expected.