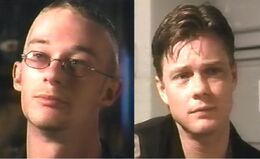 Real Name: Jason and Phillip Bomer
Case: Abduction and Attempted Robbery
Location: Humble, Texas
Date: February 25, 2001

Details: On February 25, 2001, brothers Jason and Phillip Bomer went to a Sears at the Dearbrook Mall in Humble, Texas. As they left the store, they encountered two well-dressed African-American men claiming to have a computer for sale that was in excellent condition. The men invited the brothers to come in their van to look at the equipment. However, when they four arrived at the van, Phillip noticed that there was no computer inside. At that point, the two men pulled out revolvers and forced the brothers into a van. Jason was forced into the back while Phillip was forced into the front.
The kidnappers then headed for the highway, and Jason and Phillip had no idea what they were going to do. Believing they were going to die, they jumped from the van and rolled onto the side of the road as it was going seventy miles an hour on the freeway. Both sustained severe injuries, especially Jason who had received a broken leg and shattered collar bone. He is unable to work as a result. However, they survived and were able to give the police descriptions of their kidnappers. Sketch artist Lois Gibson helped the police make a composite sketch of the two men that kidnapped them.

Suspects: The suspects are described as two African-American males driving a Chevy-style Astro maroon van possibly with Florida plates. They are approximately 5'8", 160-170 pounds, had black hair and brown eyes, and would now be in their thirties. The Bomers believe that the men may have commited a similar type of scheme before. The men are believed to have since left Texas. The men remain unidentified.
Extra Notes: This case first aired on the September 11, 2001 episode.
Results: Unsolved
Links:
---