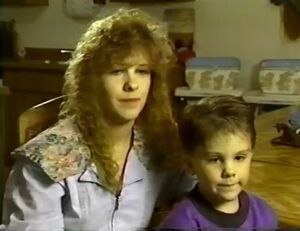 Real Name: Jared Peters
Nicknames: None Known
Location: Hobbs, New Mexico
Date: December 11, 1990
Case
Details: Jared Peters is the son of Brian and LaDonna Peters. They lived in Hobbs, New Mexico where where LaDonna's mother, Pat Farmer, often babysat and watched him. However, when she heard that LaDonna and Brian were getting a divorce, she began making wild allegations about her committing sexual abuse to Jared and exposing him to devil worship. When those accusations failed and were proven unfounded, she kidnapped him in December 1990 and failed to return him from a visitation to LaDonna. LaDonna's younger sister, Amanda, even helped her mother conceal him from LaDonna for a time.
Extra Notes: This case first aired on the December 18, 1991 episode.
Results: Solved. Pat and Jared were eventually found in Salt Lake City in 1991. She was arrested, and he was returned to his mother.
Links:
---
Ad blocker interference detected!
Wikia is a free-to-use site that makes money from advertising. We have a modified experience for viewers using ad blockers

Wikia is not accessible if you've made further modifications. Remove the custom ad blocker rule(s) and the page will load as expected.