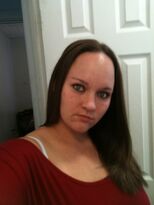 Real Name: James Hyatt
Case: Lost Father
Location: Tye, Texas
Date: 1988

Details: Felicia Ash is searching for her biological father, James Hyatt. Her mother, Sandra Ash, was working as a waitress at the Wes-T-Go truck stop in Tye, Texas, in the fall of 1988, when she began dating him. He was working for Bande's construction at the time. Sandra later learned that she was pregnant, but before she could tell him, he had left the area. Interestingly, Felicia's father-in-law, Rodney White, worked for the same company as James and for the same boss on similar job sites. James is 5'9", with dark hair, and would now be in his late 50s or early 60s.  
Extra Notes: This case was uploaded to the Unsolved Mysteries website on December 19, 2014. The person interviewed in the video is Felicia.
Results: Unsolved
Links:
---
Ad blocker interference detected!
Wikia is a free-to-use site that makes money from advertising. We have a modified experience for viewers using ad blockers

Wikia is not accessible if you've made further modifications. Remove the custom ad blocker rule(s) and the page will load as expected.