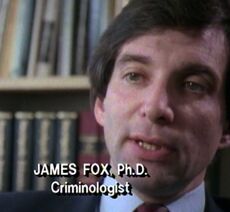 Real Names: James Fox
Occupation: Criminologist
Place of Birth: Unrevealed
Date of Birth: Unrevealed
Location: Unrevealed

Background: James Fox is a criminologist who has worked with anthropologist Elliott Leyton and forensic psychologist Reid Maloy. They have investigated several cases about serial killers and diabolical world leaders and found parallels in their personalities.
Fox also mentions how most psychopaths are not violent. Many hold regular jobs and live normal lives. They instead use their psychopathic tendencies to further themselves in their lives.
Case Files:
Extra Notes: The case was featured as a part of the Diabolical Minds Special, which aired on November 3, 1991.
Links:

---
Ad blocker interference detected!
Wikia is a free-to-use site that makes money from advertising. We have a modified experience for viewers using ad blockers

Wikia is not accessible if you've made further modifications. Remove the custom ad blocker rule(s) and the page will load as expected.