Real Name: Jacob "Jake" and Dora Cohn
Nicknames: No Known Nicknames
Location: Colonie, New York
Date: May 15, 1986

Details: Jake and Dora Cohn were an elderly couple living in Colonie, New York. On May 15, 1986, Dora's daughter was on the phone with her when all of a sudden, she heard Dora scream for Jake, and then shots fired. She called the police, and soon arrived at her mother's house with her son, James Mariani, to find that her parents had both been shot and killed. James became a suspect when he knew the type of bullets used in the murders. He was given a polygraph, and police were also suspicious because James had several friends had criminal records. The police also interviewed Keith Snare and Robert Skinner, two men with whom James had done jail time.

Suspects:
Two years would pass before Jake and Dora's daughter heard about psychic
Noreen Renier
and asked her to try and solve the case. Noreen started with Dora and told police that Dora was on the phone with her daughter and that she called out Jake when she was shot. She then mentioned Jake and described how he ran down a hallway and said that Jake realized who the killers were, and was then shot. Noreen then worked with a police hypnotist who claimed that the couple knew the killer, and that the killer's name had "S" in it. She then closed her eyes and went through pictures that the police gave her. She picked out three pictures; the first had nothing to do with the case, the second was Robert Skinner, and the third was James Mariani. Also, Robert's last name began with the letter "S".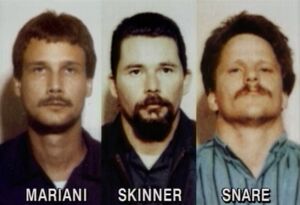 Extra Notes: The air-date for this case is April 28, 1995.
Results: Solved. Police soon learned that Skinner's alibi did not hold up, and it was soon determined that Mariani had conspired with Skinner and Snare to rob and murder his grandparents. All three men are currently serving lengthy prison sentences, thanks to Noreen Renier.
Links:
---
Ad blocker interference detected!
Wikia is a free-to-use site that makes money from advertising. We have a modified experience for viewers using ad blockers

Wikia is not accessible if you've made further modifications. Remove the custom ad blocker rule(s) and the page will load as expected.