Ad blocker interference detected!
Wikia is a free-to-use site that makes money from advertising. We have a modified experience for viewers using ad blockers

Wikia is not accessible if you've made further modifications. Remove the custom ad blocker rule(s) and the page will load as expected.
Real Name: Jacqueline Castaneda-Vasquez
Nicknames: No known nicknames
Location: Phoenix, Arizona
Date: May 6, 2001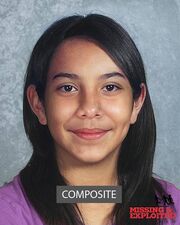 Occupation: Minor
Date Of Birth: January 14, 2001
Height: 3'0
Weight: 13 pounds
Characteristics: Brown hair and eyes with a heart-shaped birthmark on her upper arm
Details: Jacqueline Castaneda is the youngest of Olivia Castaneda's three children. Olivia was at a swap meet near Phoenix, when she stopped to use a lavatory, but in the scant few seconds she left Jacqueline outside the door, someone walked by and carried her off. Police searched the area and a vehicle-to-vehicle search, but she was not found. Police are asking for any leads to find her and arrest her kidnappers.


Suspects: A suspicious woman was seen around the lavatory shortly before the abduction. A sketch of her was made, but she has yet to be identified.
Extra Notes: This case first aired on the August 28, 2001 episode.
Results: Unsolved
Links:
---