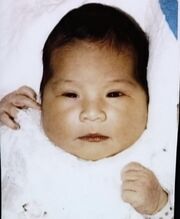 Real Name: Jacqueline Castaneda-Vasquez
Nicknames: No known nicknames
Location: Phoenix, Arizona
Date: May 6, 2001

Occupation: Minor
Date Of Birth: January 14, 2001
Height: 3'0
Weight: 13 pounds
Characteristics: Brown hair and eyes with a heart-shaped birthmark on her upper arm
Details: Jacqueline Castaneda is the youngest of Olivia Castaneda's three children. Olivia was at a swap meet near Phoenix, when she stopped to use a lavatory, but in the scant few seconds she left Jacqueline outside the door, someone walked by and carried her off. Police searched the area and a vehicle-to-vehicle search, but she was not found. Police are asking for any leads to find her and arrest her kidnappers.


Suspects: A suspicious woman was seen around the lavatory shortly before the abduction. A sketch of her was made, but she has yet to be identified.
Extra Notes: This case first aired on the August 28, 2001 episode.
Results: Unsolved
Links:
---
Ad blocker interference detected!
Wikia is a free-to-use site that makes money from advertising. We have a modified experience for viewers using ad blockers

Wikia is not accessible if you've made further modifications. Remove the custom ad blocker rule(s) and the page will load as expected.