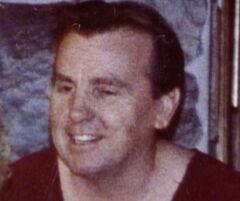 Real Name: Jerome David Method
Aliases: J.D. Method
Wanted For: Fraud
Missing Since: 1990
Details: J.D. Method is a con-man wanted for fraud who has bilked at least seventeen women of their money in Golden, Colorado. He usually convinces them to extend their credit lines by purchasing credit cards. One of the women, single mother Peggy Peterson, met Method in 1990, after responding to an ad he had placed in the newspaper. After dating for several weeks, she trusted him enough to invest $500 with him to buy a new car. However, he claimed that he did not want to take money from her, so he tore her check in half.
The next day, he called her, claiming that his uncle was ill and required immediate surgery. He claimed that his funds were tied up with investors, so he needed a loan from her. Three months after they met, he asked her for $9,600 for a trip. He took the money and never returned.
Another woman, "Amelia", met Method in August of 1990. A month later, her son was trying to sell his car and buy a new pickup truck. Method told Emilia that he could sell the car and, for an additional $4,000, make a great buy on a new pickup truck. However, he took the money and the car and did not get the truck. Three months later, he asked her to take the equity out on her home. He said that he had a promissory note that would ensure her that he would pay her back. However, he filled it out so that she owed him the money, not the other way around.
A third woman, divorced mother Linda Weaver, met Method in 1987 through a telephone dating service. Two months later, he began asking her for a $15,000 loan to help start a phony business of his. When his victims came forward about what Method did to them, he went on the run.
Extra Notes: The case was featured as a part of the October 21, 1992 episode.
Results: Captured. Method was arrested at his home in Beaverton, Oregon, in September of 1992 after he did another scam on a woman in that town. Inside the home, authorities seized several suitcases and steamer trunks, along with papers and documents that were used by him to perpetrate his scams. He was convicted of the fraud and theft charges and sentenced to sixteen years in prison. He has served his sentence and has since been released.
Links:
---
Ad blocker interference detected!
Wikia is a free-to-use site that makes money from advertising. We have a modified experience for viewers using ad blockers

Wikia is not accessible if you've made further modifications. Remove the custom ad blocker rule(s) and the page will load as expected.