Real Name: Unrevealed
Aliases: No Known Aliases
Wanted For: Murder
Missing Since: 1993
Case
Details:
Interstate 70 runs from Baltimore, Maryland to Cove Fort, Utah. Beginning in April 1992, the highway has lent its name to a serial killer known as the "Interstate 70 Killer," who has committed a string of murders within a few miles of it in several Midwestern states. The first victim was Robin Fuldauer, 26, who was killed April 8, 1992 at a Payless ShoeSource store in Indianapolis, Indiana. Three days later, Patricia Magers, 32, and Patricia Smith, 23, were slain in a Wichita, Kansas bridal shop. On May 3, 1992, Nancy Kitzmiller, 24, was going to start a government job when she was murdered at a Western boot shop in St. Charles, a suburb of St. Louis. Missouri. Sarah Blessing 37, was slain in a gift shop at a local mall in the Kansas City suburb of Raytown four days later on May 7. At 3:30pm, an auctioneer saw a mysterious unidentified man walk in and out of his store suspiciously. Minutes later, Tim Hickman, who owned a video store next to Sarah saw a man walk past his store and went into the gift shop. He then heard a loud pop and saw the man walk around the corner near the store. A grocery clerk collecting shopping carts saw the man climb a hill to Interstate 70 and vanish. Meanwhile, Tim went into the gift shop and found Sarah's body. Ballistics test confirmed that all women were killed by the same person, and the gun was linked to another victim. On April 27, 1992, ceramics store clerk Michael 'Mick' McCown was murdered in Terre Haute, Indiana, possibly because he was mistaken for a woman.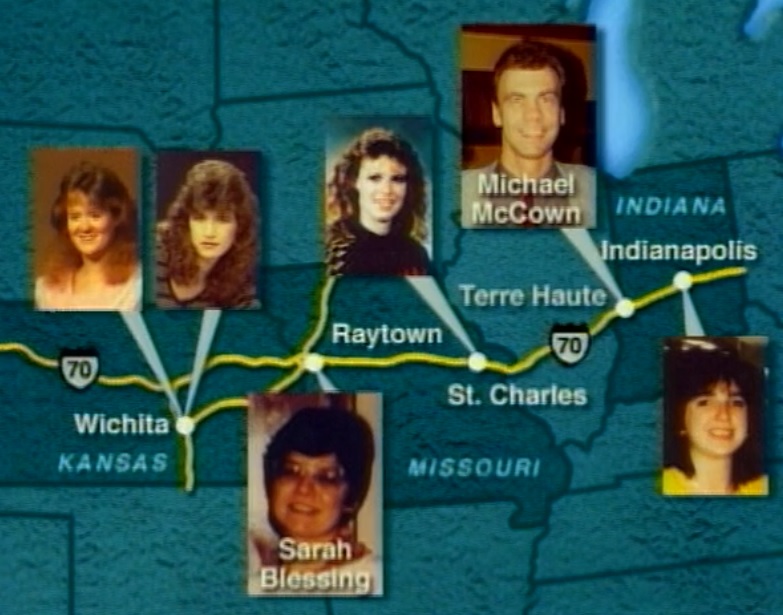 There are also possible links to four more deaths along Interstates 35 and 45 in Texas. On Sept. 25, 1993, antiques store clerk Mary Ann Glasscock, 51, was killed execution-style in an Fort Worth, Texas antique store and Amy Vess, 22, was murdered Nov. 1, 1993, while working at a dancewear shop in Arlington, Texas. Witnesses describe the killer as a thin white man, 5' 7" to 5' 9," mid-20s to early 30s, with sandy blond hair with a reddish tint and day-old beard stubble. The best lead in the case came from Witchita in the Smith/Majors murder. Shortly after the two were shot, a man came to pick up a cummerbund for his tuxedo and was confronted by the killer. Surprisingly, he let the eyewitness leave without injury. The man went to police and helped create a composite of the killer.
Herb Baumeister from Westfield, Indiana was suspected of being the killer, but he committed suicide after numerous human bones were discovered on his estate. The bones turned out to be male; Baumeister was alleged to have killed male homosexuals and could not be linked to the murders of the women. Donald Michael Prince, later Donald Albin Blom, convicted in the murder of Kathlyn "Katie" Elizabeth Poirier and a second unknown victim since has also been named as a suspect in the I-70 killings. He was known to be suffering from throat cancer, which is now in remission, and to have owned a .22 semi automatic similar which was used to killed Patricia Magers and Patricia Smith.
Suspect: The serial killer is a white male between 5'5" and 5'9"; he was thought to be in his mid-thirties to mid-forties (in 1994). He was neatly dressed and clean-cut. He is described as walking around as if in a "trance", like he was "thinking about something else." The total number of murders he is believed to have committed is 9.
Extra Notes: The original airdate for this case was May 4, 1994; the case has also been profiled on America's Most Wanted. It was also covered in much more detail on Dark Minds.
Results: Wanted
Links:
---
Ad blocker interference detected!
Wikia is a free-to-use site that makes money from advertising. We have a modified experience for viewers using ad blockers

Wikia is not accessible if you've made further modifications. Remove the custom ad blocker rule(s) and the page will load as expected.