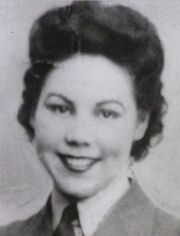 Real Name: Helen Rose Myran
Case: Lost Sister
Date: 1945
Location: Manitoba, Canada

Case
Details: Helen Rose Myran was the youngest daughter of seven. She and her siblings spent the winter months at a government boarding school, but during the summer they came home to their parents' log cabin on the Ojibwe reservation. In September 1932, the children prepared to return to school, even though their mother was gravely ill. A month later, the children's father Archie visited them at the school, telling them that their mother had passed away.

By 1941, Helen was a seventeen-year-old who became interested in joining the Canadian Army for World War II after learning about the war in class. She dropped out of high school and joined the Canadian Air Force. When they discovered that Helen was underage, they told her she needed her father's permission to join the Air Force.
In July 1941, Helen visited her father, asking for him to sign the papers so that she could join the Air Force. He refused to sign them, fearing that she would die in another country. Helen left angrily and had someone else sign the papers. She stayed the night with her aunt. The next day, she told her aunt that she was leaving and never coming back.
Two years later, however, she returned to the area and ran into her brother-in-law Angus at a country store fifteen miles from the reservation. He told her that her father wanted to see her. Angus left to get Archie, but by the time they returned, Helen had vanished again. Sadly, Archie Myran passed away in 1960 without ever having made peace with his youngest daughter. Her siblings are still searching for her.
Extra Notes: The case first appeared on Unsolved Mysteries on December 18, 1991 episode. Some sources spell her last name as "Myerion" or "Myron".
Results: Solved. Thanks to a viewer's tip, Helen Rose Myerion was found living in West Chester, New York, where she had lived since 1986. Her daughter and granddaughter were put in contact with Helen's siblings and they made arrangements for a reunion.
Her siblings have since passed away, but she remained in contact with them until their deaths.
Links:
---
Ad blocker interference detected!
Wikia is a free-to-use site that makes money from advertising. We have a modified experience for viewers using ad blockers

Wikia is not accessible if you've made further modifications. Remove the custom ad blocker rule(s) and the page will load as expected.