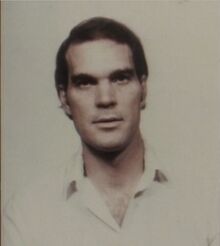 Real Name: Gregory J. Webb
Aliases: Greg
Wanted For: Murder
Missing Since: January 1987
Details: Police Chief Greg Webb of Lyons, Nebraska is wanted for the murder of thirty-four-year-old Anna Anton. She moved to Lyons in October 1986; strangely, she had no family or friends there; at first, no one could understand why she had moved there. Ten years earlier, she had injured her leg in a car accident; as a result, many of her neighbors and fellow parishioners helped her with various tasks. Her one neighbor, Shirley Edgecome, became close friends with her; she often took her grocery shopping. Anna began to confide in Shirley about her past. She stated that her ex-husband was involved in a large drug ring and that she had testified against him at his trial. She said that she had moved to Lyons because she was afraid that he or one of his friends would harm her. She told Shirley that she had moved into the apartment because she knew that Greg lived in the one above her, so she felt safe.
Then, on December 16, 1986, Shirley brought some groceries over to Anna's apartment. She was surprised to find the back door locked. She knocked on the windows but there was no response. She attempted to deliver the groceries several times that day, but Anna was not there. She then had Greg open Anna's apartment to see if she was still in there. She was not found, but Shirley did notice that she had laid out clothes on her bed, and that she had apparently left her shoes behind. Greg agreed to call the numbers in her address book; he later told Shirley that she was not at any of those places.
Eleven days later, Anna's body was found in a remote field; she had been shot twice in the torso with a .38 caliber gun. Since her body was found outside of Lyons jurisdiction, the state police were called in to investigate. The investigators determined that she had not died in the field, but had been killed elsewhere. Her blood alcohol level was .22 which was surprisingly high for someone who supposedly did not drink.
As the state authorities continued to investigate the case, they ruled out Anna's ex-husband. He had an alibi at the time, and surprisingly, they found out that he was not involved in drugs as she had claimed. When asking Greg about her, one investigator wanted to know if they were romantically involved. At first, he denied it, but then he confessed that they had been so. The state authorities began to investigate him as a possible suspect in her murder.
Two days after Anna's body was found, the state authorities conducted a test in her apartment to see if there were any blood stains. Luminol tests showed that there were traces of blood in there. The test showed that the trail of blood continued out the door and up the stairs to Greg's apartment. As the tests were being done on there, he left and later withdrew $3,000 from his bank account. He then disappeared.
Five days later, armed with a search warrant, state authorities examined Greg's apartment. They found blood matching Anna's type on a mop in his closet. When looking through his clothes, they found a military-style jacket with several spots of blood. These stains also matched Anna's type.
As authorities investigated further into Anna's background, they discovered that she was living two lives: one as a quiet, religious woman in Lyons, and another as a "bar fly" in Arnold's Park. They determined that she and Greg met at a bar in the latter. When she told him that she was looking for a new place to live, he suggested that she move into the unoccupied apartment below him. They began dating; however, he became upset when she learned that he had another girlfriend. She became upset when she heard them together in his apartment.
State authorities now believe that Greg was drunk on the night of Anna's death. They believe that she confronted him about the other woman that he had been seeing and that they got into a fight. It is believed that he then shot and killed her. Witnesses reported seeing him carry a large item, presumably her body, to the trunk of his car the morning that she was reported missing. Authorities believe that he removed her clothes and cleaned off her body, prior to disposing her in the field. It is believed that he placed her in this specific location because it was on a Native American reservation, which would cause jurisdiction problems for the authorities.
On January 6, 1987, a warrant was issued for Greg's arrest; he was charged with first degree murder.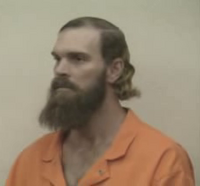 Extra Notes: This case first aired on the October 18, 1989 episode. It was one of the rare ones where a photograph of the victim was not shown. It was also a rare one in that none of Anna's family members or friends (outside of Lyons) were interviewed.
Results: Captured. In 1991, Anna's mother passed away without ever seeing her daughter's killer apprehended. Then, Greg was discovered living in Florida under the assumed name of "Jim Webber", working as a construction worker, and was arrested on February 23, 1993. When his colleague saw him on a rerun of the broadcast, he immediately contacted the authorities. Although he was charged with first degree murder, he later pleaded guilty to manslaughter. He was sentenced to seven to eighteen years in prison in 1996. He was released on August 22, 2002. The duplex, where Anna lived in the lower apartment and Greg in the upper, was demolished in 2008.
Links:
---