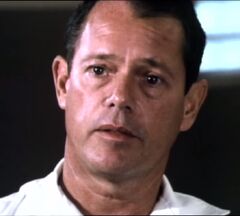 Real Name: Glenn Consagra
Case: Appeal
Date: April 16, 1978
Location: Clearwater, Florida
Details: Glenn Consagra was accused of killing two of his best friends, Freddie Douberley and Mary Lou Holmes, on April 16, 1978, after partying on an island near Clearwater, Florida. Glen pleaded guilty to the murders and was sentenced to serve two life sentences as a result. He proclaims his innocence in their murders, adding that he only pleaded guilty to avert a death sentence. Several pieces of evidence have been found to suggest that Glen was innocent and someone else was responsible for the murders.
Suspects: A woman came forward claiming that a friend of hers had told her that he had killed Freddie and Mary Lou. However, she disappeared and never had the chance to testify.
Extra Notes: This segment appeared on Special #3 which aired September 24, 1987.
Results: Unresolved. The state of Florida conducted three separate investigations; all of them concluded Glen was guilty. Glen was paroled on December 22, 1992, but he died suddenly on August 21, 1996. He was never successful in proving his innocence, and the belief in his supporters are that Freddie and Mary Lou's killer or killers are still at large.
Links:
---
Ad blocker interference detected!
Wikia is a free-to-use site that makes money from advertising. We have a modified experience for viewers using ad blockers

Wikia is not accessible if you've made further modifications. Remove the custom ad blocker rule(s) and the page will load as expected.