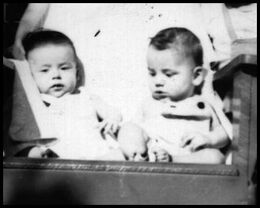 Real Name: Gerry and Terry Robinson
Case: Lost Siblings
Location: New York
Date: September 20, 1950

Details: On January 23, 1950, twin boys Gerry and Terry Robinson were born in Upstate New York. Terry was sick with serious ear infections and needed surgery. They were the youngest of six in a well-loved family, but their father had health problems and they struggled to make ends meet. On September 20, 1950, they were given up for adoption when they were just eight months old. Nine years later, their father died, and now their biological siblings, Gail and Alan Robinson, want to find them and let them know that they may be genetically predisposed to colon cancer. When their mother tried to search for them, she found several leads that pointed to Texas, but none panned out. The best lead that Gail and Alan have found was that they lived in Fort Plain, New York for an amount of time, and may have graduated from the high school. However, they still have not been found. Today, they would be 63 years old, may have gray hair due to a hereditary trait, and colon cancer.
Extra Notes: This case first aired on the June 4, 1999 episode.
Results: Unsolved
Links:
---
Ad blocker interference detected!
Wikia is a free-to-use site that makes money from advertising. We have a modified experience for viewers using ad blockers

Wikia is not accessible if you've made further modifications. Remove the custom ad blocker rule(s) and the page will load as expected.