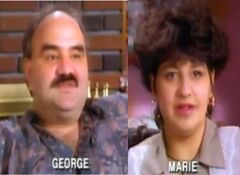 Real Names: George and Marie (last name unrevealed)
Case: Medical Mystery
Location: Unrevealed
Date: November 1993
Details: In November 1993, Marie was six months pregnant and with her husband, George, when they learned from her doctor that she had a serious disease that could kill her baby. They completed a C-section on her and delivered her daughter, Mariah. When she was born, she was three months premature, weighed less than three pounds, and was very ill. A hospital priest baptized her, fearing that she would soon pass away.
While she was put on a respirator, a nurse named Joanne O'Reilly performed Therapeutic Touch (TT) on her, in hopes of saving her. Within minutes of the TT, she began improving. Joanne did TT on Marie as well, as she was in critical condition. Her pain went away shortly after the TT session. Today, mother and daughter both are better now thanks to Joanne and TT.
Extra Notes: This case first aired on the April 13, 1994 episode about TT along with that of Michael Ziegler.
Results: Unsolved
Links:
---
Ad blocker interference detected!
Wikia is a free-to-use site that makes money from advertising. We have a modified experience for viewers using ad blockers

Wikia is not accessible if you've made further modifications. Remove the custom ad blocker rule(s) and the page will load as expected.