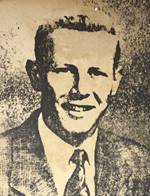 Real Name: George Walker Abbott
Aliases: None
Wanted For: Murder
Missing Since: August 1951

Details: On August 13, 1951, George Abbott was driving his car to a local park and 11-year-old Alice Taylor was walking alone to that same camp. Abbott saw Alice and lured her into a nearby wooded area. There, Abbott strangled her, shot her in the head once, and once he took her body at his home stabbed her 24 times, and then traveled 11 miles to Central Park Avenue and burned her body in a shallow grave.
Around 6:30 pm, Alice's mother, Lauren, went to the park to pick up her daughter, only to find that Alice had not arrived. After two hours of investigation, Alice's body was found. The murder case made national headlines, largely due to the age of the killer (21) and of the victim (11). He then disappeared soon after the discovery of the body. A year later, on October 21, 1952 Abbott was identified ad the killer through fingerprint identification. He has never been seen or heard of since that time.
Though some believe that Abbott committed suicide, others including the police believe that he is alive and has created a new identity. He should be considered armed and dangerous.
Extra Notes: This case first aired on the July 18, 1992 episode.
Results: Unsolved
Links:
---
Ad blocker interference detected!
Wikia is a free-to-use site that makes money from advertising. We have a modified experience for viewers using ad blockers

Wikia is not accessible if you've made further modifications. Remove the custom ad blocker rule(s) and the page will load as expected.