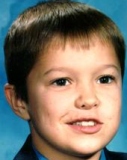 Real Name: George Stanley Burdynski Jr.
Nicknames: Junior
Location: Brentwood, Maryland
Date: May 24, 1993
Occupation: Student
Date of Birth: July 29, 1982
Height: 4'0
Weight: 60 pounds
Characteristics: Caucasian male, dark blond hair, brown eyes,

Details:
Ten-year-old George Burdynski left his home in Brentwood, Maryland, at around 3:30pm on May 24, 1993, on his bicycle to meet his adult friend, Robert Violet. Robert said that George never arrived, but some witnesses claimed to have seen George outside of Robert's home. He was last seen at 8:30pm, biking around the neighborhood, and although his rim was found, the rest of his bicycle has never been recovered. One lead in his case involved two suspects who were connected to the child exploitation ring in the mid-Atlantic. The FBI discovered that the suspects utilized the Internet to further their child pornography ventures. The men have never been charged in George's disappearance, but the FBI did focus more on child exploitation on the internet.
Innocent Images
debuted in 1994 and prosecutes suspected pornographers on the Web. George's mother testified at one of the suspect's trial, claiming that George visited his home several times in 1993.
Suspects: James A. Kowalski Jr., and Joseph Lynch were involved in the child exploitation ring that police believe may have been responsible for George's disappearance, but they have never been charged. They are believed that have sexually abused two of George's friends shortly before he vanished, and they were all eventually convicted on unrelated child abuse charges.
Extra Notes: This segment was featured as part of the February 23, 1996 episode.
Results: Unsolved. In March of 2002, investigators announced that they were focusing on another individual who they believe might have murdered George. In 2004, there were reported sightings of George in Massachusetts; witnesses recognized him because of a scar on his face. He was apparently homeless and was traveling with a group selling coupon books door-to-door. The man was never identified, and it is unknown if he was actually George. His case remains unsolved.
Links:
---