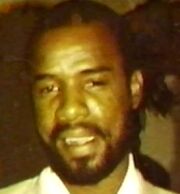 Real Name: Gary Gibson
Nicknames: No Known Nicknames
Location: Los Angeles, California
Date: September 11, 1991
Details: Thirty-eight-year-old Gary Gibson was a father of two. At around 10PM on September 11, 1991, he was walking across a parking lot of a Los Angeles motel when he was accosted by three men in a passing car. One of the assailants was armed with a .38 caliber revolver. They proceeded to rob Gary at gunpoint. He tried to fight back and grab the gun. However, he was shot in the chest and killed. The assailants fired three more shots and fled.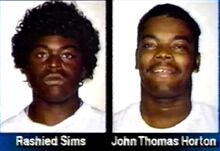 One of the men was arrested shortly after the murder, and he gave police the identity of the two other men: John Thomas Horton and the trigger-man Rashied Sims. However, both men's whereabouts are unknown.
Suspects: Rashied Sims, John Horton, and an unidentified accomplice (name withheld)
Extra Notes: The case was featured as a special alert as a part of the October 23, 1991 episode.
Some sources state that the murder occurred on September 12, 1991.
Results: Solved. Horton was arrested soon after the broadcast after being involved in a robbery gone awry. Sims stayed on the run and fled the Los Angeles area. However, an anonymous tip led to Sims's arrest at his grandmother's home in January of 1992. Horton, Sims, and Tyrone Woods III were charged with first-degree murder.
Sims was convicted and sentenced to prison; he was denied parole in 2013 and will not be eligible again until 2020. Horton was also convicted and sentenced to prison; he was denied parole in 2016 and will not be eligible again until 2023. Further information about Woods in not available.
Links:
---