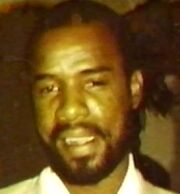 Real Name: Gary Gibson
Nicknames: No Known Nicknames
Location: Los Angeles, California
Date: September 11, 1991
Details: On September 11, 1991, Gary Gibson was shot and killed in the parking lot of a motel in Los Angeles by three men who were trying to rob him. One of the men was arrested shortly after the murder, and he gave police the identity of the two other men: John Thomas Horton and the trigger-man Rashied Sims. However, both men's whereabouts are unknown.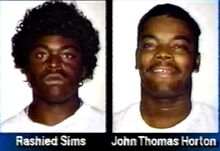 Suspects: Rashied Sims, John Horton, and an unidentified accomplice (name withheld)
Extra Notes: The case was featured as a special alert as a part of the October 23, 1991 episode.
Results: Solved. Horton was arrested soon after the broadcast. Sims stayed on the run until he was arrested at his grandmother's home in January of 1992.
Links:
---
Ad blocker interference detected!
Wikia is a free-to-use site that makes money from advertising. We have a modified experience for viewers using ad blockers

Wikia is not accessible if you've made further modifications. Remove the custom ad blocker rule(s) and the page will load as expected.