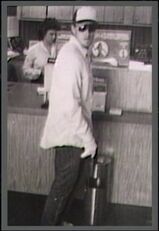 Real Name: Unknown
Nicknames: Fumbles
Wanted For: Armed Robbery
Missing Since: 1988
Case
Details: Authorities are searching for an armed robber that has struck more than thirty small banks in Florida since July 12, 1984. The robber usually strikes banks that are located next to shopping malls. He always wears a cap and gloves, but has an even more distinctive trademark. During his first robbery, he put on his gloves, pulled out his weapon, and proceeded to trip and fall on a rug. In another robbery, he seemed to have trouble keeping his mask on. During yet another robbery, he dropped some of the money on the floor and had to pick it up. Due to his clumsiness during robberies, he has been given the nickname "Fumbles".
Though authorities find it quite amusing the way this armed robber has acted in the past, they do feel that he is also a dangerous criminal, as he has been successful in over thirty armed robberies, the most recent occurring in 1988. The tellers whom he has victimized hope that he will be caught before he robs another bank.
Extra Notes: The case first aired on the April 12, 1989 episode.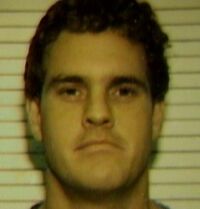 Results: Captured. Police in Clearwater, Florida received a call from a viewer who identified "Fumbles" as twenty-three-year-old college student Ross James Preston; on May 24, 1989, FBI agents arrested Preston in Clearwater. When he was arrested, Preston was in possession of the baseball cap, sunglasses, and gloves that were believed to be used in the robberies. On August 2, 1989, Preston pleaded guilty to thirty-three armed robberies; as part of a plea deal, he was given a 25-year sentence for seven of the robberies. He served thirteen years in prison and was released in 2002.
Links:
---
Ad blocker interference detected!
Wikia is a free-to-use site that makes money from advertising. We have a modified experience for viewers using ad blockers

Wikia is not accessible if you've made further modifications. Remove the custom ad blocker rule(s) and the page will load as expected.