Real Name: Unknown (at time of first broadcast)
Nicknames: None
Location: Houston, Texas
Date: April 28, 1992

Occupation: Unrevealed
Date of Birth: Unknown, Estelle is speculated to be between 18 to 25
Height: 5'6
Weight: 130 lbs.
Marital Status: Single
Characteristics: She has blonde hair and green eyes; her ears had been pierced.

Details: An unidentified woman was found unconscious along Interstate 10 in Houston after being hit by a car. She was found with only a tube of lipstick and a comb. She had no identification on her and was taken to Hermann Hospital where she was given the name "Estelle". The injuries made her unable to communicate with the hospital staff.
Extra Notes: This case originally ran on the September 16, 1992 episode.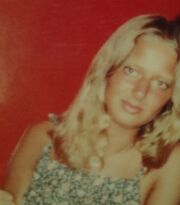 Results: Solved. Estelle was identified as 32-year-old Nancy Sue McDonald by a jailer who had seen the Unsolved Mysteries broadcast. The jailer recognized her as a past inmate at the Talbot County Detention Center in Easton, Maryland. Further investigation indicated the woman had been arrested for hitchhiking in Florida four days before she was found in Houston. Her stepmother was contacted soon after she was identified. She spent the remainder of her years in a nursing home in Houston, Texas. She passed away at age 49 on October 11, 2009. She was never able to communicate.
Links:

---
Ad blocker interference detected!
Wikia is a free-to-use site that makes money from advertising. We have a modified experience for viewers using ad blockers

Wikia is not accessible if you've made further modifications. Remove the custom ad blocker rule(s) and the page will load as expected.