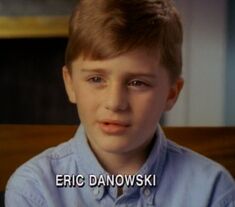 Real Name: Eric Danowski
Case: Medical Miracle
Location: Pittsburgh, Pennsylvania
Date: March 2, 1988

Details: Eleven-month-old Eric Danowski was very ill after receiving a liver transplant. Transplant surgeon Tom Starzl was concerned, especially because his body had rejected the first liver. Three weeks after his second transplant, he developed viral pneumonia; his doctors and parents feared the worst. His parents began to pray for a miracle. That night, his mother contacted a newspaper journalist, who wrote for the readers to pray for the young boy. The article appeared in the Erie Daily Times a few days later. Within a week, hundreds of parishioners in Erie began to pray for him. Amazingly, in just a few days, he began quickly improving. By his first birthday, he had beaten the virus.
Eventually, he underwent a third liver transplant; this one was successful. Years later, he is as healthy as every other kid. He is grateful for everyone that prayed for him.
Extra Notes: The case was featured as a part of the May 5, 1995 episode, in a segment about the power of prayer along with Kathleen Burghardt.
Results: Unsolved. Eric is still healthy to this day with a family of his own and just had his first child, Maveric, born earlier in 2014, and his family is certain that prayer helped save him. Sadly, his surgeon, Tom Starzl, passed away in 2017.
Links:
---
Ad blocker interference detected!
Wikia is a free-to-use site that makes money from advertising. We have a modified experience for viewers using ad blockers

Wikia is not accessible if you've made further modifications. Remove the custom ad blocker rule(s) and the page will load as expected.