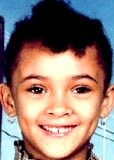 Real Name: Equilla Lynn Hodrick
Nicknames: No known Nicknames
Location: Bronx, New York
Date: August 12, 1985

Occupation: Unrevealed
Date of Birth: August 19, 1976
Height: 4'11
Weight: 80 pounds
Marital Status: Single
Characteristics: African-American female. Brown hair, hazel eyes. Equilla had a gap between her upper front teeth at the time of her 1985 disappearance. She has a scar near her right eye and a scar on her right cheek, and discolorations on her buttocks and back. Equilla's ears are pierced. She wears eyeglasses.

Details: Equilla Hodrick was sitting with her mother on the porch of their residence on Briggs Avenue in the Bronx, New York on August 12, 1985.  When her mother began to speak to friends at about 6:30 p.m., Equilla ran to the corner of Briggs Avenue and 194th Street toward a Mr. Softee ice cream truck that was parked.  Her mother, being eight months pregnant, was not able to chase her down, but she usually returned quickly.  Equilla's cousin later said she saw her playing video games at an arcade later that evening, but she has not been seen since. 
Suspects: None known
Extra Notes: This case first aired on January 22, 1986 as part of Missing... Have You Seen This Person? Special #2. Equilla's disappearance was also profiled on America's Most Wanted.
Results: Unsolved
Links:
---