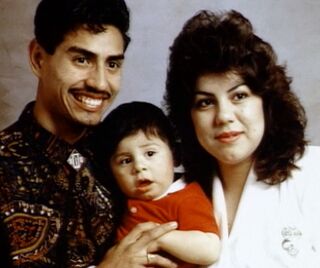 Real Name: Elizabeth Fuentes Ortiz
Aliases: Unrevealed
Wanted For: Attempted Murder and Abduction
Missing Since: March 11, 1992
Details: In Redwood City, California, Elizabeth Ortiz had a strained marriage with her husband, Gilbert, who struggled to stay ahead of her spending habits. She had a way out of her money problems. He was using amino acid shakes to try and develop his physique, and she spiked one of them to poison him. He slipped into full cardiac arrest at his place of employment and survived. Elizabeth created lies and fabricated insane scenarios to try and cover up her crime the whole time, but the second police fingered her. She abducted their two-year-old son, Jonathan, and vanished.
Extra Notes: This case first aired on the November 25, 1992 episode. Elizabeth was also profiled on America's Most Wanted.
Results: Solved. Elizabeth was captured and arrested by the FBI and Mexican authorities without Jonathan near Guadalajara, Mexico, eight years after the attempted murder of Gilbert, mostly based on tips to America's Most Wanted. Jonathan finally turned up several months later and was returned to his father. Elizabeth was given a life sentence plus six years for child abduction and bodily harm. Incredibly, the female psychopath attempted an appeal in 2004 which was refused. During two separate incidents in 2010, Jonathan, now 20, brutally beat Gilbert, irrationally blaming him for his mother's imprisonment. In January 2011, he was charged with assault with a deadly weapon and inflicting great bodily injury.
Links:
---
Ad blocker interference detected!
Wikia is a free-to-use site that makes money from advertising. We have a modified experience for viewers using ad blockers

Wikia is not accessible if you've made further modifications. Remove the custom ad blocker rule(s) and the page will load as expected.