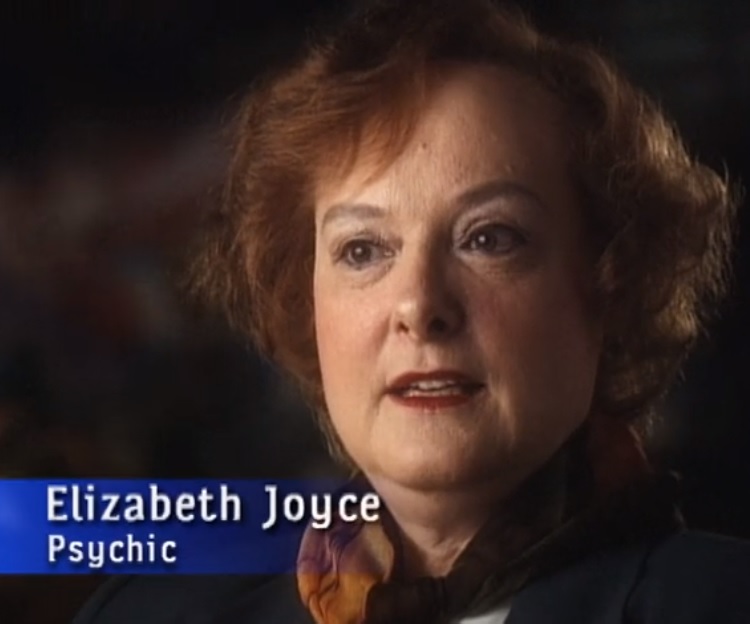 Real Name: Elizabeth Joyce
Occupation: Psychic Medium
Place Of Birth: Hackensack, New Jersey
Date Of Birth: March 16, 1952
Location: Ridgewood, New Jersey

Background: Elizabeth Joyce and her son Jeff were injured in a car accident in New Jersey caused by a drunk driver. On the way to the hospital, Elizabeth's heart stopped three times. During this time, she was reunited with deceased loved ones (including her husband and stepson) who told her to go back, and she survived. Elizabeth soon began having psychic visions after the accident.
In one instance, Elizabeth began having a frightening recurring dream involving an explosion, a body, an oil well and an aunt dying in Houston. However, Elizabeth's aunt was alive and living in Concord, New Hampshire. After three weeks of the same dream, she confided with a social worker named Brenda T. Hayes. Brenda was astonished - her aunt had died in a pipeline explosion a week earlier in Houston, but they were unable to find her remains. Elizabeth drew an exact rendition of a house and told Brenda that the body of her aunt would be found by an oil well. A few hours later, the body was found exactly where Elizabeth said.
Elizabeth is happy to know that she helping so many people with her powers.
Case Files:  
Notes: The case was featured as a part of the April 16, 1999 episode, Suddenly Psychic, along with psychic John Holland.
Links:
---
Ad blocker interference detected!
Wikia is a free-to-use site that makes money from advertising. We have a modified experience for viewers using ad blockers

Wikia is not accessible if you've made further modifications. Remove the custom ad blocker rule(s) and the page will load as expected.