Real Name: Eileen Mangold
Nicknames: No known nicknames
Location: Tampa, Florida
Date: September 19, 1989
Details: Eileen Mangold worked late at night at a gas station in Tampa, Florida, when on September 19, 1989, two siblings arrived at the gas station to find Eileen yelling for help, saying that she was being robbed by an unidentified man. They drove to a nearby store to call the police, but by the time authorities arrived, Eileen and the man were gone. A few hours later, her car was found abandoned a few miles from the gas station. Tragically, she was found sexually assaulted and murdered the next day. The killer has never been identified.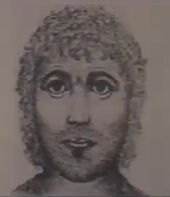 Suspects: The man was described as 30 years old, 6'0 with a husky build, 190-200 lbs, and curly blond hair.
Extra Notes: The case was featured as a part of the May 12, 1993 episode.
Results: Solved. In December of 1999, fingerprints found on Eileen's car and DNA evidence found on Eileen's body was linked to Franklin A. Smith. Smith was arrested and charged with first degree murder. In May of 2000, the jury returned without a verdict and a second trial occurred in October. Sadly, due to the jury members' misunderstandings of the DNA evidence, Smith was acquitted of murder.
Links:
---
Ad blocker interference detected!
Wikia is a free-to-use site that makes money from advertising. We have a modified experience for viewers using ad blockers

Wikia is not accessible if you've made further modifications. Remove the custom ad blocker rule(s) and the page will load as expected.