Real Name: Douglas Raskin
Case: Unusual Phenomenon
Location: Mount Fuji, Japan
Date: April 17, 1994
Details:
On April 17, 1994, 32 year old Doug Raskin was a successful attorney and outdoorsman when he fell to his death while climbing Mt. Fuji in Japan.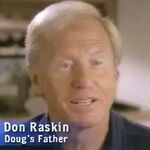 A week later, his family was holding a memorial service when his parents, Don and Sue Raskin, were told from a relative that they should meet with a psychic named
James Van Praagh
to help them overcome the grief of Doug's death and learned what happened to him. When James met with the Raskins, he knew nothing about their son or his death, but he was able to tell everything about Doug's death, about several people in the Raskin's life, and many other things that he couldn't have known any other way.
One of the most important things that James received through his psychic abilites was about another tragedy in the Raskin family, a miscarriage that Sue had thirty three years earlier. James also mentioned a photograph that Doug had taken in Japan shortly before his death, and that Doug like it. However, Sue claimed that the picture did not exist, until they received a picture in the mail that was from Doug's friends in Japan. It was the exact picture that James had described, that had been discovered by his friends that went to the place that Doug had died. The Raskins are certain that James contacted Doug from beyond the grave because of his psychic powers.
Extra Notes: The case was featured as a part of a segment about psychic James Van Praagh which originally aired on February 3, 1995.
Results: Unsolved
Links: None
---
Ad blocker interference detected!
Wikia is a free-to-use site that makes money from advertising. We have a modified experience for viewers using ad blockers

Wikia is not accessible if you've made further modifications. Remove the custom ad blocker rule(s) and the page will load as expected.