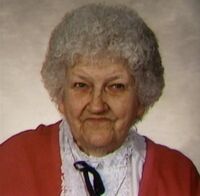 Real Name: Dorothy Donovan
Nicknames: No known nicknames
Location: Harrington, Delaware
Date: June 22, 1991
Details: At around midnight on June 22, 1991, factory worker Charles Holden was leaving a fast food restaurant when a stranger came to his truck, asking for a ride. He said that his sister was having a baby and that he needed to get to the hospital. Charles first said he couldn't because he lived just a few blocks away but eventually changed his mind and took him.

A few minutes after getting picked up, Charles stopped at an intersection where he would normally turn to drive home, but then the stranger attacked him, demanding his money as well as his truck. He ran to a store to get help, but the stranger, armed with a screwdriver, raced towards him, and at that point he said he would take him where he wanted to go. However, as the stranger went around to enter the passenger side of the truck, Charles sped off and the stranger tried to run after him but gave up. He then began to drive around a bit trying to shake off his experience. When he finally started to return home, he noticed the stranger was lurking around his home and he drove away again to call the police at a pay phone. A police officer went with him to his home and that of his mother, Dorothy Donovan, who lived in the main behind his. They found that the back door window had been broken and there was blood inside the house. They then went up the stairs to her bedroom and found her dead. She had been stabbed to death. Nothing had been stolen from the house, and authorities suspected that Charles was responsible, until physical evidence was found that did not belong to him. The stranger remains unidentified.

Suspects: At first, the police suspected Charles of the murder given the complexity of the crime, but they soon found witnesses at the fast food restaurant who confirmed that the stranger did exist, and they also found a bloody palm print on a banister and DNA evidence that did not match Charles and he was cleared. The stranger is described as being in his late 20s or early 30s, 5'8", with a slender build and pock-marked complexion, and he wore plastic framed glasses with over-sized lenses. Authorities believe that he may have been on drugs at the time of the murder.


Extra Notes: This case first aired on the May 12, 1995 episode. It was also featured in the Court TV series, "Forensic Files."
Results: Solved. In February 2006, DNA evidence at the scene along with the bloody palm print on the banister identified Dorothy's killer as Gilbert E. Cannon of Delmar, Maryland, who was arrested and charged with first degree murder. He told authorities that he was on drugs at the time of the murder and was looking for a place to stay. Furthermore, he said he chose Dorothy's house because it was the first one he could find that didn't have any lights on. He pled guilty to the murder and was sentenced to life in prison without the possibility of parole.
Links:
This case has a page on the "Forensic Files" website.
---
Ad blocker interference detected!
Wikia is a free-to-use site that makes money from advertising. We have a modified experience for viewers using ad blockers

Wikia is not accessible if you've made further modifications. Remove the custom ad blocker rule(s) and the page will load as expected.