Real Name: Donna Callahan
Nicknames: No known nicknames
Location: Gulf Breeze, Santa Rosa County, Florida
Date: August 6, 1989
Occupation: Clerk
Date of Birth: 1960
Height: Unrevealed
Weight: Unrevealed
Marital Status: Unrevealed
Characteristics: She was three months pregnant at the time of her disappearance.
Details: Twenty-nine-year-old Donna Callahan was a convenience store clerk in Gulf Breeze, Florida, when she vanished on August 6, 1989. There were no signs of struggle at the scene. Police believe that she was abducted, and possibly murdered.
Suspects: Police speculate that a serial killer may have been responisble for Donna's disappearance, along with the abductions of two other clerks, Deborah Poe and Darleen Messer.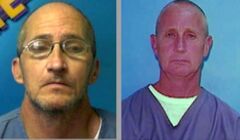 Extra Notes: This case first aired on the November 6, 1991 episode.
Results: Solved. Years after Donna's disappearance, a man named William Alex Wells confessed to killing her and led police to her remains. He also implicated his half-brother, Mark Riebe, in the crime. They were both tried and convicted of her murder and are serving life sentences.
Links:
---
Ad blocker interference detected!
Wikia is a free-to-use site that makes money from advertising. We have a modified experience for viewers using ad blockers

Wikia is not accessible if you've made further modifications. Remove the custom ad blocker rule(s) and the page will load as expected.