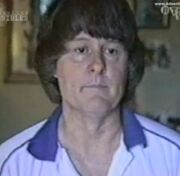 Real Name: Richard Donald Hoffman
Nicknames: Don Hoffman
Location: Las Colinas, Texas
Date: September 16, 1988
Details: Richard Donald "Don" Hoffman was the fourth husband of Terri Hoffman, founder of a spiritual movement called, "Conscious Develpment of the Body, Mind, and Soul". In the fall of 1988, he began to fall ill and on September 16, 1988, he checked into the room of the Marriott Hotel in Las Colinas, Texas, and later that night took his own life. His family later discovered a video of Don taken just prior to his death in which he revealed that he had terminal cancer, which had been proven by three different doctors, and that he was saying goodbye to his family. However, an autopsy on Don showed that he had no trace of cancer in his body, and his family suspects that his wife Terri convinced him that he had cancer and to name her the sole beneficiary to his estate. His family belives that she was directly responsible for his death, and investigators believe she was involved in the disappearances and deaths of several people in her spiritual group, but she has never been charged.
Suspects: Terri Hoffman
Extra Notes: The case was featured as a part of the November 10, 1995 episode, which focused mainly on missing follower Charles Southern Jr.
Results: Unsolved
Links:
---
Ad blocker interference detected!
Wikia is a free-to-use site that makes money from advertising. We have a modified experience for viewers using ad blockers

Wikia is not accessible if you've made further modifications. Remove the custom ad blocker rule(s) and the page will load as expected.