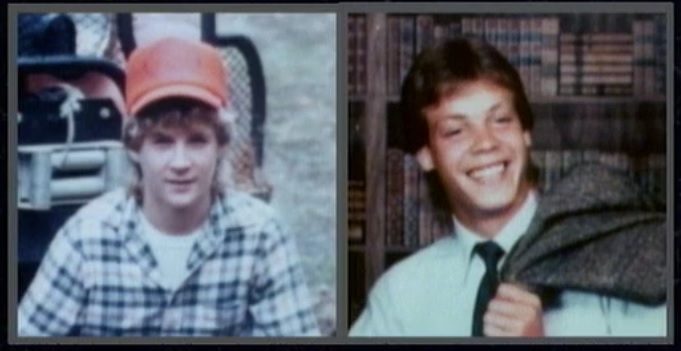 Real Name: Kevin Ives and Donald Henry
Nicknames: No Known Nicknames
Location: Bryant, Arkansas
Date: August 23, 1987

Details: In 1987, teenagers Kevin Ives and Don Henry were discovered spread out over the railroad tracks near their home. The engineer that noticed them was unable to stop his train in time to prevent running over them; he later rationalized that due to the noise of his oncoming train, that the boys had to have been dead and positioned on the tracks.
The local police suspiciously rushed to a solution in the case, judging the boys had died from drug abuse on the tracks, but their families are convinced that they were murdered and that there was a police cover-up of a CIA operation. A green tarp was seen on top of them by the conductors, but it vanished by the time they started looking for it after they were run over. They were positioned in ways that it was impossible for someone under the influence of marijuana to end on.
A few months after the deaths, the boys' parents held a press conference, and the case was reopened. A grand jury over-ruled the ruling of accidental death and changed their deaths to probable homicide. An investigator found that a similar case occurred in Hodgen, Oklahoma, in which two young men were found lying on railroad tracks and ran over in 1984, positioned almost identically to the boys. However, police have found no suspects in their deaths.
Suspects: There are rumors of an unidentified figure in military fatigues loitering in the area before the train ran over Kevin and Don. However, a local witness claims that he saw two police officers beating two boys senseless in a store parking lot before tossing them into a truck and driving away. It is unknown whether or not they were Kevin and Don. Theory is they might have accidentally observed a drug drop. In 1996, Linda Ives released the video, "Obstruction of Justice," detailing the botched investigation and a cover-up of an alledged drug ring in Saline County. Several people have been implicated in this conspiracy which has involved numerous investigations and two grand juries.
Extra Notes: This case first aired on the October 12, 1988 episode. It was also the subject of a book, "The Boys on the Tracks," by Mara Leveritt, published by Bird Call Press in 1999. It ranks as one of the most remembered one in the series. Scott Johnson and Norman Ladner are two other cases involving youths who might have been murdered after observing drug drops.
Results: Unresolved. Police later found evidence of stab wounds on Don's shirt and the investigation changed from probable homicide to definite homicide. Tips to the telecenter suggested that he and Kevin were murdered by drug dealers, and that they may have stumbled onto them with the drugs. However, no suspects were ever named in the case. In 1995, the investigation into their murders was officially closed without their killer captured or identified.
Links:
---
Ad blocker interference detected!
Wikia is a free-to-use site that makes money from advertising. We have a modified experience for viewers using ad blockers

Wikia is not accessible if you've made further modifications. Remove the custom ad blocker rule(s) and the page will load as expected.