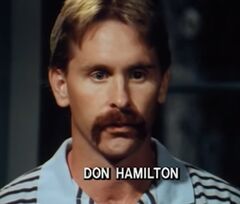 Real Name: Don Hamilton
Case: Medical Mysteries
Date: November 8, 1987
Location: Maple Plain, Minnesota

Details: Don Hamilton was accidentally shot while hunting with friends in November of 1987 in a wooded area near Wadena, Minnesota. Losing 60% of his own blood, he went into a coma only to later come out of it, an act that was called a miraculous recovery. His family believes his recuperation was due to God's intervention. His doctors believed Hamilton would never fully wake from vegetative state, where cutting life support became one of the few options left. Miraculously, Don awoke from the coma after nine and a half weeks and achieved what he and family members were told to be impossible. He has since walked and regained full use of his brain. He is now married and has two daughters named Emily and Melissa Hamilton.
Suspects: None
Extra Notes: This segment first ran on Unsolved Mysteries in the November 15, 1989 episode.
Results: Unsolved
Links: No known links.

---
Ad blocker interference detected!
Wikia is a free-to-use site that makes money from advertising. We have a modified experience for viewers using ad blockers

Wikia is not accessible if you've made further modifications. Remove the custom ad blocker rule(s) and the page will load as expected.