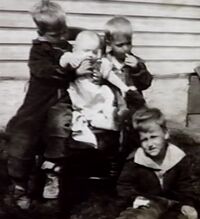 Real Name: Dolores Stradt
Case: Lost Sister
Location: Ottumwa, Iowa
Date: 1941
Details: In 1941, a sixteen-month-old Iowa girl named Dolores Stradt and her older brothers Donald, Walter, and Richard were taken in by their aunt after their parents were unable to care for them. Their mother Velma was unable to work and was pregnant with her fifth child. Their father was also unable to take care of them because he was institutionalized.

Their aunt called the Child Welfare Department, who took the siblings away. The two older brothers were sent to Iowa State youth facilities, while Donald and Dolores were taken to a Lutheran Children's home where they were taken in by the head nurse. Donald soon realized that he and his siblings would not be going back to their mother.
While with the nurse, Donald tried to escape at any chance he could get. One day, while the nurse was not paying attention, he took Dolores out to the Model A Ford parked in the driveway. Once in the car, he would alternate between hitting the gas pedal and looking up at the road, in an attempt to drive away and return to his family. However, the nurse caught him and punished him.
Two weeks later, Dolores was adopted, but Donald was not. However, Dolores's adoptive parents soon asked for Donald to come help them. When Donald returned to Dolores, she was finally able to adjust to her adoptive family. However, he was forced to remain in the background. A few days later, the head nurse came back and took Donald away. Donald never saw Dolores after that.
Donald later began searching for his family; in 1965, he was reunited with his two brothers, his sister (whom his mother was pregnant with in 1941), and his mother Velma. Sadly, their father passed away while still institutionalized. Velma re-married and had five more children. However, Velma and her nine children have been unable to locate Dolores. They are still searching for her.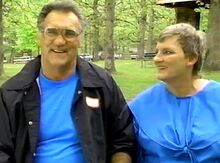 Extra Notes: This segment originally aired on the April 29, 1992 episode.
Results: Solved. Dolores Stradt, who was renamed Penelope Sue Lewis, was watching the Unsolved Mysteries segment and was put into contact with Donald. Three days later, on May 2, 1992, she was reunited with Donald, along with their mother Velma, their other siblings, half-siblings, and other family members.
Sadly, their mother Velma passed away in 1997. Their half-sister Edith has also since passed away.
Links:
---
Ad blocker interference detected!
Wikia is a free-to-use site that makes money from advertising. We have a modified experience for viewers using ad blockers

Wikia is not accessible if you've made further modifications. Remove the custom ad blocker rule(s) and the page will load as expected.