Real Name: Dexter Stefonek
Nicknames: No Known Nicknames
Location: Glendive, Montana
Date: November 19, 1985

Details: Dexter Stefonek was a 67-year-old widower from Wisconsin. He had been staying with his son near Corbett, Oregon when he decided to head home to Wisconsin, but something happened to him that stopped him in his journey. In Montana, the state police found Dexter's Plymouth Horizon set ablaze at the Bad Route rest area, and Dexter's remains dumped in a landfill site a short drive away. Departed only a day from his son's home, he had been shot twice in the head. Suspicion is that Dexter might have encountered a hitch-hiker en route that took his life and then his car.
Suspects: Witnesses recall seeing a light-complected and clean shaven man carrying two large jugs of gasoline to Dexter's vehicle. This person could have been driving a white Chevy 4X4 with a blue horizontal stripe and a white camper shell with an Arizona license plate in a Phoenix license plate holder.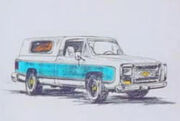 Extra Notes: This segment originally aired on the April 12, 1989 episode of Unsolved Mysteries.
Results: Unsolved. No answers have been found to solve Dexter's murder. Meanwhile, Frederick Siegle, the caretaker of the rest stop where Dexter was found, died in 1997 at the age of 81.
Links:
---
Ad blocker interference detected!
Wikia is a free-to-use site that makes money from advertising. We have a modified experience for viewers using ad blockers

Wikia is not accessible if you've made further modifications. Remove the custom ad blocker rule(s) and the page will load as expected.