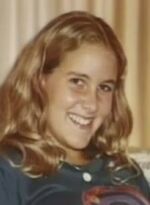 Real Name: Devereaux Cleaver
Nicknames: No Known Nicknames
Location: Hawaii
Date: February 25, 1979
Details: Devereaux Cleaver is the daughter of Sandy Cleaver, who joined a spiritual movement called "Conscious Development of the Mind, Body, and Soul" in the 1970s, which was created by Terri Hoffman. In February of 1979, Devereaux, her mother Sandy, and another follower went on a vacation to Hawaii. While there, on February 25, Devereaux and Sandy went on a raft when she was allegedly pulled away by the water and drowned. Investigators later discovered that Devereaux had created a will and wrote all of her money and possessions to Terri Hoffman, and some believe she may have been involved in Devereaux's death along with Sandy's death two years later.
Suspects: Terri Hoffman
Extra Notes: This case originally ran on the November 10, 1995 episode, mainly about follower Charles Southern Jr.
Results: Unsolved
Links:
---
Ad blocker interference detected!
Wikia is a free-to-use site that makes money from advertising. We have a modified experience for viewers using ad blockers

Wikia is not accessible if you've made further modifications. Remove the custom ad blocker rule(s) and the page will load as expected.