Ad blocker interference detected!
Wikia is a free-to-use site that makes money from advertising. We have a modified experience for viewers using ad blockers

Wikia is not accessible if you've made further modifications. Remove the custom ad blocker rule(s) and the page will load as expected.
Real Names: Demetra, Bernard, Ericka, Jamaal, Jasmas, and Ketrick Jordan
Nicknames: No known nicknames
Location: Dallas, Texas
Date: September 29, 1988
Details: Mollie Jordan was a nurse who lived with her five grandchildren, Demetra, Bernard, Ericka, Jamaal, and Ketrick and her great grandchild Jasmas, in a home in Dallas, Texas. At around 3 am on September 29, 1988, the house was set fire by two unknown drug dealers that Bernard had been getting his drugs from. He had placed furniture in front of the front door and the hallway to the bedrooms in order to keep the men from reaching his siblings. When the fire started, the children broke the windows in order to escape, but the release handle on the burglar bars jammed. The firefighters were unable to get into the house through the doors because of how the furniture was placed. By the time they were able to, Demetra, Bernard, Ericka, Jamaal, and Jasmas were all dead, but Ketrick was barely able to survive and told authorities what had happened that night. Now police are looking for those responsible for the arson fire and the murders.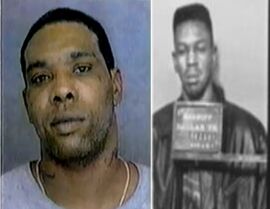 Suspects: A man named "Curly" was identified as a suspect in the murders.
Extra Notes: This case first aired on the May 25, 1994 episode.
Results: Solved. The man know as "Curly" was eventually identified as drug dealer Curly Diamond who was killed in a New York subway shoot out in 1992, which ironically remains unsolved. A second drug dealer, Vincent Lamont Thomas, was arrested and charged with capital murder in the case. Sadly, police did not have enough evidence to bring him to trial, and the charges were dropped. However, police consider the case closed because Curly is dead.
Links:
---