Case File: Delta Queen Riverboat
Location: New Orleans, Louisiana
Date: June 1985
Description: The Delta Queen is an American sternwheel riverboat measuring 285 feet long and weighs 1650 tons. She has a capacity for 176 passengers and her cross-compounded steam engines generate 2000 indicated steam power.
History: One December night in New Orleans, the Delta Queen Riverboat's first mate Mike Williams was the only person on board and was sleeping when he was awakened by someone making a sound in his ear. Although there was a door slam from his cabin, all the doors were locked. When he went to Cabin 109, the door swung open in his hand and he looked in and found that nobody was there.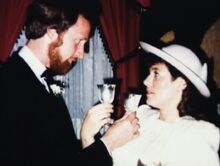 Mike soon learned that Mary Green, who was in charge of the ship in the 40s, had died in Cabin 109. Then, in June 1985, Delta Queen employee Myra Fruge was working late when she received a call from an elderly woman who claimed that she was cold and needed a blanket. She sent Mike to Cabin 109, where the woman was apparently staying. However, when he went into the room, he found that it was unoccupied. At that same time, Myra saw a misty face looking at her from the decks, and she believed that it was the elderly woman, but she was unable to find her, even though she searched extensively. When she returned to the purser's desk, Mike came and told her how nobody was in Cabin 109. She was so shook up about the experience, he took her back to her cabin, and while they were walking back, she saw the portrait of Mary Green and realized that she was the woman she saw on the deck. Mike then believed that Mary may have been trying to match him up with Myra. They fell in love, got married, and had a daughter named Heather. They are certain that Mary's spirit played matchmaker and will continue to watch over them.

Background: The Delta Queen Riverboat was built in the 1820s and during World War II it transported wounded soldiers to hospitals and was then refurbrished to carry vacationers. Mary Green was in charge of it in 1947 when she was 79, but she died only two years later in Cabin 109. The Delta Queen was added to the National Registry of Historic Places in 1970.
Investigations: None
Extra Notes: This case first on the April 9, 1999 episode.
The Delta Queen was also featured on the TV series, Haunted History.
Results: Unsolved
Links:
---
Ad blocker interference detected!
Wikia is a free-to-use site that makes money from advertising. We have a modified experience for viewers using ad blockers

Wikia is not accessible if you've made further modifications. Remove the custom ad blocker rule(s) and the page will load as expected.