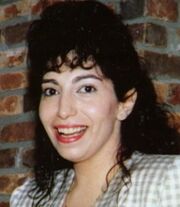 Real Name: Yeda Sharon Rosenthal
Nicknames: Dede Rosenthal
Location: Cherry Hill, New Jersey
Date: February 27, 1991

Occupation: Therapist
Date of Birth: November 4, 1958
Height: 5' 8"
Weight: 150-160 pounds
Marital Status: Single
Characteristics: Unrevealed

Details: Therapist Dede Rosenthal vanished in 1991 and was reported missing after she did not report to work for several days. Police learned that she was going to be evicted from her apartment, and the possibility emerged that she left on her own accord. Her family did not believe this, however. Her car was found in the parking lot of the apartment complex, and she had left her cat by herself, leading to the possibility that she may have been abducted and murdered, especially after a neighbor reported hearing a scream come from her room. Then a woman came forward that another one that she believed was Dede had came to her bar a week after she vanished. It seemed possible that she may have been abducted by bikers and that she was at the bar with them. A year later, the same woman that was seen at the bar was seen again, but soon vanished again. Dede has never been found and it was never determined if the woman seen at the bar was her.
Suspects: Bikers were suspected in her disappearance due to the sightings at the bar.
Extra Notes: This case first aired on the April 28, 1993 episode. Dede's case was also profiled on On the Case with Paula Zahn.
Results: Solved. Dede's disappearance and murder was eventually linked to Charles Reddish, a maintenance man at her apartment complex, who smothered her with a pillow and then dumped her remains in a remote area off Route 130 in Salem County. Sadly, her body has never been recovered. Reddish was sentenced to a sixty-year sentence plus two life ones for the 1995 hatchet murder of his girlfriend and the rape of her 14-year-old daughter. In 2002, his sentence was converted to a death sentence which he is still serving. However, this sentence was overturned by the New Jersey Supreme Court and commuted to 80 years. In 2007, New Jersey abolished the death penalty.
Links:
---
Ad blocker interference detected!
Wikia is a free-to-use site that makes money from advertising. We have a modified experience for viewers using ad blockers

Wikia is not accessible if you've made further modifications. Remove the custom ad blocker rule(s) and the page will load as expected.