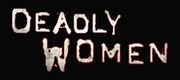 Network: Investigation Discovery
Series Premiere: October 5, 2008
Series Finale: N/A
Status: Airing
Cast:

​Lynnanne Zager: Narrator 
Deadly Women fuses bone chilling story telling, sumptuous period drama and forensic fact in a bid to explore history's most alluring, intriguing and horrifying female killers. Each episode profiles four famous cases from the past and delves into a deadly world shaped by spiraling forces that are beyond the women's control: obsession, greed, and revenge.
Deadly Women has the following cases in common with Unsolved Mysteries.
---
Ad blocker interference detected!
Wikia is a free-to-use site that makes money from advertising. We have a modified experience for viewers using ad blockers

Wikia is not accessible if you've made further modifications. Remove the custom ad blocker rule(s) and the page will load as expected.