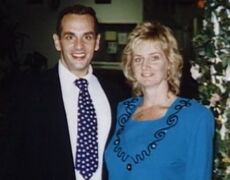 Real Name: David Shublak
Case: Medical Mystery
Location: Fort Huachuca, Arizona
Date: November 1995
Details: In summer 1995, Linda Gordon met a jogger and army major named David Shublak and they fell in love and got married four months later. Just hours later, he was shipped to Louisiana for a few weeks and then to Fort Huachuca, Arizona, and in November, Linda came to live with him at the post. A few days later, he went out on his morning run, which took him to the other side of the base. When the sidewalk ended, he ran on the shoulder of the road east into the blinding sun, when a car hit him and sent him flying through the air and he landed sixty feet away. He suffered multiple skull fractures and broken legs and was sent to a hospital in Tucson. His cranial pressure was much worse than a normal accident and there was little hope for his recovery. He was declared clinically then legally brain dead. However, Linda would not give up hope, but five days later, their relatives were forced to make an agonizing decision: to either leave him on life support at the hospital, take him home and keep him on life support, or turn off life support and donate his organs. However, Linda knew that he was not dead, and she turned back to the Bible, and read the book of Lazarus, about how Jesus brought his friend, Lazarus, back to life after being dead for four days, and she was hoping the same thing could happen for David. She took her Bible and placed it on David's chest. Then she laid her hands on his head asking God to do the same for him as He did for Lazarus. A few hours later, a doctor came in to check his vital signs and found that he opened his eyes and looked around, and when Linda returned to the hospital, his father told her the astonishing news about how he flickered his eyes. She was convinced that his signs were a miracle because of her prayer. He then said that he had woken up, and three months later was discharged from the hospital despite the doctors saying that he was going to die. He and Linda are certain that they are together today because of a miracle.
Extra Notes: The original airdate of this case is unrevealed.
Results: Unsolved
Links:
---
Ad blocker interference detected!
Wikia is a free-to-use site that makes money from advertising. We have a modified experience for viewers using ad blockers

Wikia is not accessible if you've made further modifications. Remove the custom ad blocker rule(s) and the page will load as expected.